BROADWAY COMICS
Broadway Comics was started by Jim Shooter in 1995, right after his last company, Defiant, had folded. The company was a division of Broadway Video Entertainment with Jim Shooter as co-owner of the characters. In 1996 Broadway Video Entertainment was sold to Golden Books, which then promptly went bankrupt. The year 1996 being one of the worst years for the comic book industry, the company was closed before it had a chance to start, just like a number of other new comic book companies.
Several months after launching this site, I received a message from Joe James stating "At Broadway, the writing team was Jim Shooter, Janet Jackson, Myself and Pauline Weiss. We literally wrote every frame of every book together. Jim was of course head writer but we spent a year and a half 9 hours a day, 6 days a week writing the Broadway line. That is no exageration. With the exception of the few titles we adopted individually." He later mentions "I still have a script for Knights on Broadway #4... I had it plotted up to #7 and the culmination of the first story arc was supposed to coincide with our first universe crossover, which was a massive change of all the books."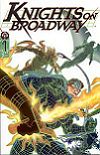 Broadway published a total of 33 books before it shut down. Only 23 of those would be regarded as being part of the Broadway Universe. The other tens books constituted black and white promotional previews, hard and softcover trade paperbacks and a couple of one-shots titles that don't necessarily fit into the universe structure. Of the 23 we are considering part of the universe, Shooter had a hand in writing 19 of them. At the time of Broadway's abrupt closure, there were 4 ongoing titles. Unfortunately, only one title, Fatale, completed it's storyarc before Broadway closed it's doors.
Broadway published it's first book, Powers That Be #1, in November 1995. One year later, Broadway published their final products, the Fatale Trade Paperbacks.
Aside from being the founder and editor-in-chief, Shooter also wrote and co-wrote the majority of Broadway's comics including the full run of Fatale and Powers That Be/Star Seed.