BROADWAY COMICS: KNIGHTS ON BROADWAY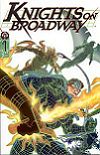 Knights on Broadway was the last of the 4 ongoing titles to get started. The first issue was published in July 1996 and the third and final issue was published in October 1996. Shooter helped co-write the first issue before handing the reins over to Joe James for the rest of the series. Knights on Broadway was originally solicited under the title City Perilous. However, no known issues were published under that title.
Several months after launching this site, I received a message from Joe James where he mentions "I still have a script for Knights on Broadway #4... I had it plotted up to #7 and the culmination of the first story arc was supposed to coincide with our first universe crossover, which was a massive change of all the books."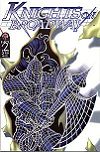 Knights on Broadway features child-prodigy Tammy who can see into the future. A genius at age 2, she strives to provide a solution for the impending virus that will destroy current society. Without the full support of her parents, she's forced to fake her own death and skip town with the only person who's willing to help, her nanny Ms. Hopkins.
As Tammy forges ahead developing technology for her earth-saving Knights, she occassionally has visions of the future to let her know if she's heading in the right direction.
Knights on Broadway was one of my favorite series from Broadway Comics, and the cliff-hanger at the end of issue three makes me wish Joe James or Shooter would call me and tell me how it turns out.