NEW UNIVERSE: NIGHTMASK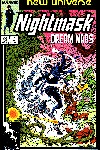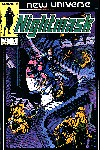 Nightmask was another fan favorite that was cut after Shooter left Marvel. Nightmask ran only 12 issues and did not get an annual when it bowed out.
From Marvel Age promos: He's Keith Remsen. She's his sister Teddy. Together they run a unique psychoanalytical consulting service. With Teddy's help, Keith can enter the dreams of others, roam the labyrinths of their minds and, in the process, help the seriously disturbed.
Keith remains anonymous in their clients' dreams, however. Protected from their psychological defenses by a psychophysically manifested camouflage. It's called the Nightmask.