DEFIANT COMICS: BIRTH OF THE DEFIANT UNIVERSE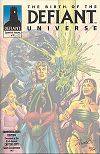 Birth of the Defiant Universe was a one-shot presented to retailers at the 6th annual Capital City sales conference. It was touted as being the most expensive comic book format publication for it's time.
It features a translucent paper overlay which wraps a card stock cover. High gloss heavy stock paper was used throughout. These were signed by Jim Shooter and limited to only 1000 copies. The comics were given to retailers with an envelope and a pair of white gloves.
The envelope features a letter which states "DEFIANT! THE GLOVES ARE OFF! (But put these on to preserve this incredible collectors' item!)". In this promotional publication it has the characters of the Defiant Universe introduce themselves in first person dialogue. It has an introduction to the Defiant Universe and it lists the upcoming titles including Truth and Beauty and Mongrel which were never published. Contary to some online reports, this material was not reprinted. It is not the same content which was published in Defiant Genesis.