DEFIANT COMICS: DEFIANT GENESIS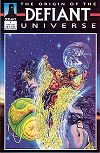 Defiant Genesis is not really a typical comic book. It does have some artwork but most of the artwork is background scenery. This book is a collection of short stories that give insight to the Defiant Universe and it's characters.
There are known variants which include covers with the Comicfest '93 logo and ones that were bundled with Dark Dominion trading cards. Defiant Genesis was also renamed and released as The Origin of the Defiant Universe. Aside from slightly different interior coloring and the addition of series logos, the two issues are identical.