DEFIANT COMICS: GOOD GUYS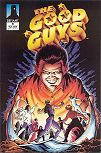 The Good Guys was one of Defiant's gimmicks. They put out a casting call for comic book fans to audition for the book. Winners were chosen and all of the characters in The Good Guys are based on the likenesses of the winners. The series ran 10 issues, premiering in November 1993 and lasting until July 1994. Shooter had a hand in writing issue 1 as well as issues 3 through 9.
The Good Guys #1.5 was a 26-page story that was never released as a stand-alone comic. Instead, you had to purchase 12 consecutive issues of Previews magazine to obtain all 26 pages. A zip file containing all the pages of The Good Guys #1.5 is available for download.

The following is a list of all the issues of Previews that contained pages from The Good Guys #1.5:

Previews Volume 3 - Issue  7 - Jul 1993
Previews Volume 3 - Issue  8 - Aug 1993
Previews Volume 3 - Issue  9 - Sep 1993
Previews Volume 3 - Issue 10 - Oct 1993
Previews Volume 3 - Issue 11 - Nov 1993
Previews Volume 3 - Issue 12 - Dec 1993
Previews Volume 3 - Issue  1 - Jan 1994
Previews Volume 3 - Issue  2 - Feb 1994
Previews Volume 3 - Issue  3 - Mar 1994
Previews Volume 3 - Issue  4 - Apr 1994
Previews Volume 3 - Issue  5 - May 1994
Previews Volume 3 - Issue  6 - Jun 1994